The SPIRIT Jersey
FunTeam Alberta is launching a pilot program for hockey groups to participate in over the course of the 2022-23 season to help promote the foundational principles and values that the organization was built upon with its participants. It is important for FunTeam Alberta to distinguish our programming by elevating the attributes that separate us and make our membership so special.
FunTeam groups and their coaches will recognize FunTeam participants on a weekly basis that are making a difference on their team by handing out a one of a kind SPIRIT jersey. The SPIRIT jersey is scattered with important words that define the type of people that we encourage to be a part of FunTeam communities in Alberta.

Goals:
We want to educate our FunTeam members, volunteers and families of the values and principles that matter most to FunTeam programming. We don't value wins, goals, assists or what the score is but rather traits and characteristics that allow FunTeam-ers to be supportive team members and contributing members to their community.
Our hope is to have every FunTeam Hockey group using this program to help promote the personal growth of our participants and to share those successes with the FunTeam community by 2023-24.
To recognize all recipients of our SPIRIT jersey program and learn more about the fantastic FunTeam members making a differerence in their community.
Why "SPIRIT"?
FunTeam Alberta measures qualities far beyond any performance that is calculated on a score sheet. It is their FunTeam SPIRIT that will truly define what a winner is in our organization and we want to celebrate them for being positivie role models to the rest of their FunTeam community.

Here are some of the words that we think capture what it means to be a successful FunTeam participant using SPIRIT as our guideline:
S: Sportsmanship, Sincere, Special, Sensational, Sharing
P: Positive, Passionate, Personable, Perseverance, Play
I: Inspirational, Inclusive
R: Role Model, Reliable, Respectful, Respionsible, Reflective, Resilient
I: Impactful, Integrity
T: Team Player, Thankful, Terrific, Teamwork, Trust, Thoughtful
How It Works: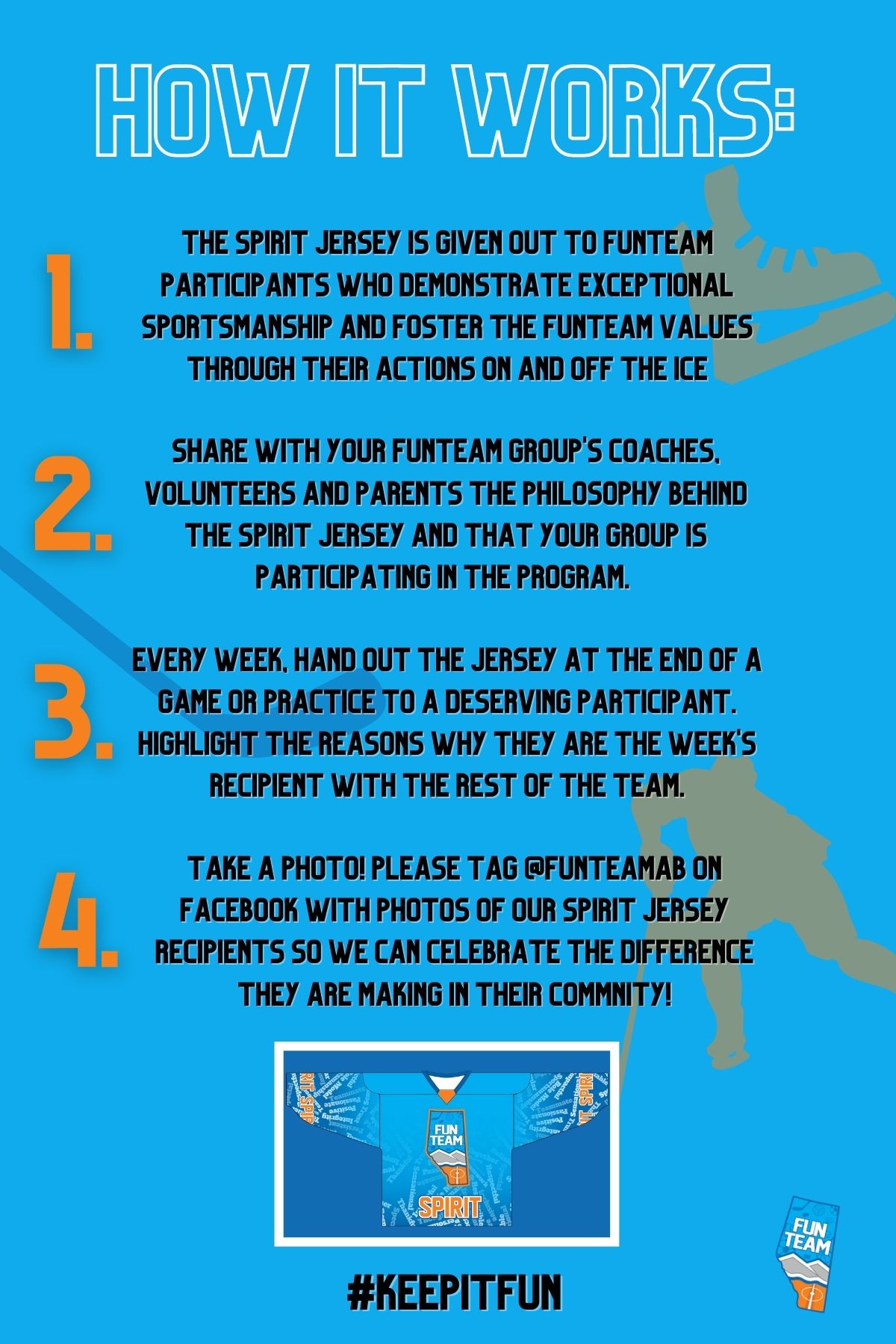 SPIRIT Jersey Recipients:
COMING SOON...