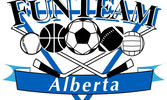 Coming Fall 2019 we are excited to announce that the Town of Bashaw will be taking on a FunTeam Hockey program! FunTeam hockey is designed to be a cost effective and family oriented program that will promote the less competitive aspects of the game.
Details:
Bashaw FunTeam Hockey will have two programs to register for: a Learn to Play for ages 3-4 (age 3 as of September 2019) and a hockey program for ages 5-7. Spots will be limited so make sure you register right away!
Registration will go live on our website on Monday June 3rd, 2019. Please refer to our registration guidelines if you are new to FunTeam.
Cost: $125 for FunTeam Hockey. $100 for Learn to Play.
Season will look to get going in late October and finishing in early February.
If you have any other questions please direct them to Melissa Lenz at bashawfunhockey@gmail.com.